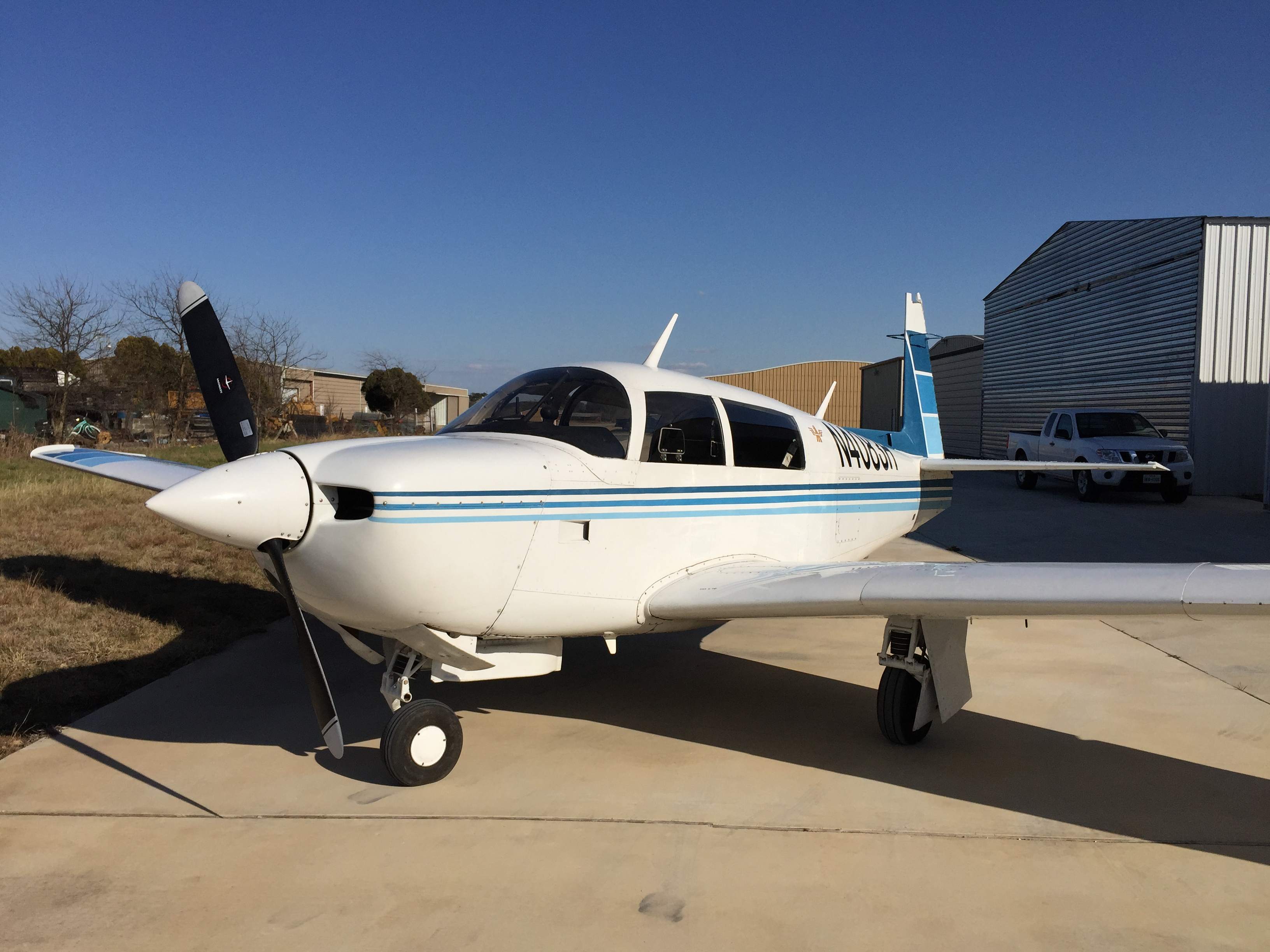 mooneyflyfast
Basic Member
Content Count

168

Joined

Last visited
Community Reputation
80
Excellent
I'm a fan of Jake at Bevan Aviation in Wichita for fixing my KFC 200. Repaired the computer and pitch servo at reasonable cost. It works great.

Were they complete assemblies ready to bolt on? piston pins and plugs? Sounds like a good deal. Last I checked Lyc. angle vale cylinders were $2,300. When I overhauled my io 360 400 hours ago I had ECI overhaul my first run cylinders and do the ni cad process. So far so good. If these had been available then I might have gone with them instead.

A little too elaborate for me. Is there a labelmaker that makes white letters on a clear or black background?

Does anyone know if Mooney factory trusses have the stop tabs? My original nose truss did not have the stop tabs. When I replaced it with a rebuilt one from Lasar, it had the tabs. One tab got broken so I replaced it with the current one which does not have the tabs. I believe the tabs may be a Lasar modification. If the tubes are not bent, I don't see why you couldn't cut the tabs off. You would then have a truss identical to the factory ones.

After your 256 is repaired I think you will have to have it alligned with the rest of the system by a shop with the proper knowhow and equipment. Bob had me send him my autopilot computer and mode annunciator with the 256 so he could allign it all before returning to me. If sending in only the 256 I would have a shop that can do the allignment remove the 256 and reinstall it for me. Need to be careful with the 256. It has a switch on the back that activates the low vacuum warning (on my 81J anyway. Mine got damaged and I got to buy a new one $$$$$$.

KI256 OVERHAULS...!! • $1,000 • ACCEPTING ORDERS • We overhaul your Bendix/King KI-256 for just $1,000 dollars. 1-Year full warranty, call us today! • Contact Mark Williams - AEROSPACE COMPONENTS located Siloam Springs, AR USA • Telephone: 888-490-2150 • Posted February 16, 2019 • Show all Ads posted by this Advertiser • Recommend This Ad to a Friend • Email Advertiser • Save to Watchlist • Report This Ad Disclaimer: I know nothing about this shop but the price is right.

He signed off the IFR cert. Guess the pitot leak was an just incidental finding. I think the most likely location of the leak would be the pitot drain valve at the forward wing root on the left side. I dont know whether it could be resealed or would have to be replaced. If necessary to replace, the availability and cost. Im afraid I would be opening a bucket of worms.

My avionics shop found a pitot leak in doing my IFR certification. Static was OK. They described it as 100 kts./ minute. I assume this means if you hooked up an airspeed indicator to it and applied pressure to bring it up to 150 Kts. it would take 1 minute to leak down to 50 kts. This doesn't seem like much of a leak to me. How much would this affect my indicated airspeed? Should I try to run this down and fix it or call it good and forget it?

Does anyone have experience with these?. I am thinking about replacing the landing lingt on my J. PAR 46 LED REPLACEMENT • $149 • YOUR SEARCH IS OVER • INTRODUCING THE LONG-AWAITED SUNSETTER - FUSION 46LR HIGH PERFORMANCE LED DROP-IN REPLACEMENT FOR LEGACY PAR 46 5.75" SEALED BEAM LAMPS. WHELEN'S PARMETHEUS 46 LED SHINES LIKE A CANDLE COMPARED TO THE INCREDIBLE BRIGHTNESS OF THIS REVOLUTIONARY LAMP. 10-30VDC; 5,200LM; 10 DEGREE SPOT LENS WITH PROPRIETARY LINEAR SPREADER LENS ON 4 LEDS FOR ENHANCED PERIPHERAL LIGHTING FOR CLOSE PROXIMITY NIGHT/TAXI OPERATIONS; POWDERCOATED HEAT SINK; 8-32 SCREW TERMINALS. SATISFACTION GUARANTEED OR YOUR MONEY BACK. ORDERS SHIP SAME DAY • CLICK HERE TO ORDER • Contact AERO-LITES , LLC, Owner - located Thomaston, GA USA • Telephone: 1-800-638-7914 • Posted February 7, 2019 • Show all Ads posted by this Advertiser • Recommend This Ad to a Friend • Email Advertiser • Save to Watchlist • Report This Ad • View Larger Pictures

That's ridiculous. Last one I replaced was from Lasar rebuilt for about 450 in parts. Exchange, I think. Don't recall the labor but probably a couple of hours should cover it. EDIT If I couldn't get a rebuilt one, I would take mine to a good welding shop and have the dented section of tubing replaced. This should be legal as an owner produced part. Or, have my mechanic state that it was repaired in accordance with AC 43.13 and it is approved for return to service.

It helps but I had an FBO break one of the stops off my Lasar truss. FBOs seem to be training their linemen better these days. I havent had one damaged in a long time. When I caution them about towing they say " Oh we know about towing Mooneys"

My J has 940 useful. Full fuel is ~7 hours running lop. With 1/2 fuel (enough for a 350 nm trip with 1 hour reserve) I can legally carry 4 170 pounders and 68 pounds of baggage. That has always been sufficient for me. There is no good reason to carry enough fuel for 800 miles if you aren't going to need it.

I received a call yesterday from Jake at Bevan. My equipment (pitch servo, mode selector, and computer) are fixed. The total cost was about half of the estimate from the other shop. They received it on Monday and it was fixed by Friday. I am very satisfied and highly recommend this shop.